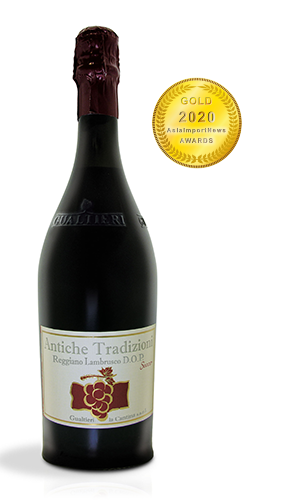 PRODUCING COUNTRY: Italy | Emilia Romagna_x000D_
Flat lands in the northern area of the province of Reggio Emilia.
GRAPES: Lambrusco: Salamino, Maestri, Marani, Ancellotta – 11% Vol.
VINIFICATION: It derives from grapes which are carefully selected from the province of Reggio Emilia and crushed using the soft method.
TASTE
COLOUR: Sparkling ruby red with an evanescent foam.
FRAGRANCE: Intense winey aroma with an ample bouquet, persistent, characteristic.
TASTE: Dry, balanced, excellent density, rightly tannic and rightly tart.
SERVING SUGGESTIONS: Starter dishes with stuffed pasta, roasts and orange duck.