Solaria wines have been
awarded by
JamesSuckling.com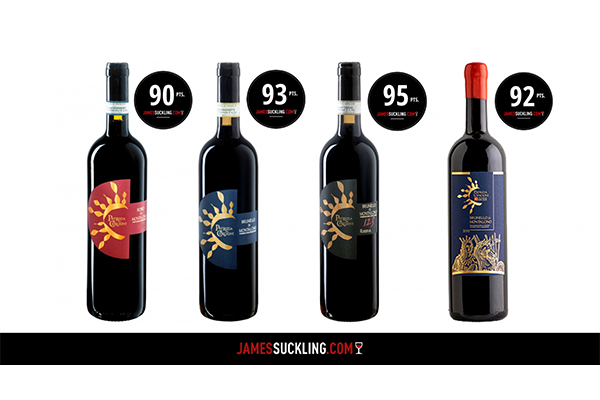 93PTS – PATRIZIA CENCIONI BRUNELLO DI MONTALCINO 2016:
There's stili a lot of oak on the nose now, but the aromatic, ripe-plum character comes out more or the front palate. This is very sturdy and built to last with full, chewy tannins that only let a little savory spice through the gate for now. So give it plenty of time. Drink from 2024.
92PTS – PATRIZIA CENCIONI BRUNELLO DI MONTALCINO 123 RISERVA 2015:
Lots of ripe plum and berry fruit with lightly spiced, nutty aromas, following through to a full, lightly firm and silky bodywith a balsamic tinge to the fruit. This is starting to mature and is lovely to drink now.
95PTS – PATRIZIA CENCIONI BRUNELLO DI MONTALCINO 31 ANNI 2016:
Fabulous spicy-fruit character and firm structure to this intense Brunello that displays almost aggressive youthfulness and will need more time to settle in. But ali the ingredients are well defined and, in the end, there is overall balance and such good length. lt will be worth the wait. Try from 2023.
90PTS – ROSSO DI MONTALCINO DOC 2019:
A pleasant Rosso with lots of clean berry and lightly spicy oak aromas and flavors. Medium – bodied and quite tight. A touch of citrus freshens up the finish. Give it a year for the tannis to relax their grip. Best from 2022.